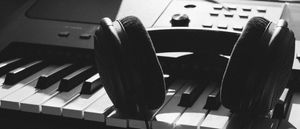 The Full Story
Thank goodness for music - it has been my escape for many years. I feel like words are hard to come by for me sometimes because I speak better with notes. When I sit down at the keyboard - it's easy.  The notes speak for me.
Growing up in the DMV close to Baltimore gave me a chance to be exposed to so many different people, different styles, different ideas, different sounds.  It helped me find my community who have the words to go with my music.
For years now I've been speaking in private but now finally after 20 years of real life experiences, real life choices, I'm ready to open up the doors into the world I have escaped to.